Products
Ryeco ONE09010 Sheet Break Detector
ONE-9010 Model
Long distance, single calibration break detection for any location across your machine. All grades, all colors.

The ONE-9010 is a high-intensity white LED sensor that memorizes and calibrates to the color of the web. The ONE-9010 utilizes proprietary technology that simultaneously, measures color, contrast, and texture of the moving web. The ONE-9010 detects breaks at distances of up to 15ft. Longer mounting distances help keep sensors out of the way and unaffected by collateral damage from the web path. This is the ONE sensor for all locations and applications on your machine.
Benefits & Features
Reliably detects open draw, sheet on can, and close color sheet on felt applications.
Long range detection distance for flexible installations.
HMI touchscreen interface has a 5.7" colored display with simple navigation of settings and features.
Interference or "noise" cancelling software maximizes performance and provides the operator with high-quality data display on the HMI touchscreen.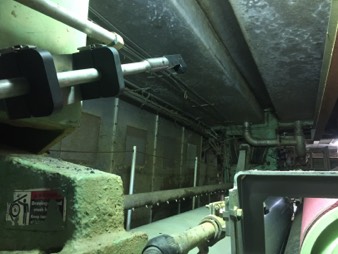 The Smart-Box is equipped with a smart controller that allows one-touch calibration, temperature monitoring, and break recording. Paired with the ONE-9010 the Smart-Box logs performance data charts every second of every day to know exactly how your system is performing. The HMI Touchscreen provides quick access for sensor calibration and performance.
Applications
Industry Configurations
Open Draw Paper Single
Sheet On Cylinder Tissue Dual
Sheet On Felt Pulp Multi-Sensor
Ply Break Detection Packaging
*Also available, EXT-9003 Laser sheet break detection system for open draw locations only.
---
‹ Back