Meet Our Expert
Tim Rye
Founder and Sales Manager, RYECO, LLC.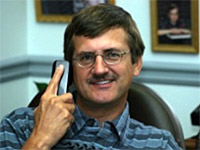 Tim Rye, Founder and General Manager of RYECO, LLC, founded the company in 1989. However, his expertise within the paper industry spans over 30 years. Rye first started his career with ABB in 1977 where he was Product Manager for ULMA Web Inspection Systems. In 1989, he became an independent consultant helping mills throughout North America select web inspection systems and in 1991 founded RYECO, LLC, a manufacturer of edge crack detection, edge marking and sheet break detection systems.
After working with papermakers for over three decades, Rye contends that despite significant advances in technology, there are still unresolved problems. Diagnosing and solving those problems remain a challenge for both papermakers and their suppliers. RYECO has stepped up to the challenge by developing and applying technology that provides a solution to these unsolved problems.
Besides his role at RYECO, LLC, Tim Rye remains an invaluable resource for papermakers and continues to be available for consultations involving web inspection and quality control.